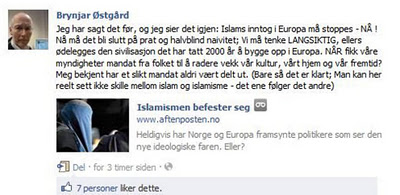 Prominent lawyer Brynjar Østgård wants to stop Islam in Norway and thinks Islam threatens Norwegian culture and social order. "It's difficult to find a Muslim-dominated country with the same social order we have. Think of values like democracy, freedom of speech and rule of law," Brynjar Østgård told Nordlys.
The lawyer is a former judge in the Hålogaland court of appeals and is on the board of the Hålogaland theater. On Thursday he posted the following on his Facebook profile:
"I've said it before and I'll say it again: Islam's incursion into Europe must be stopped – NOW! The talk and half-blind naivety must stop: we must think LONG TERM, or else the civilization that has taken 2000 years to build in Europe will be destroyed. WHEN did our government get the mandate from the people to throw away our culture, our home and our future? I know such a mandate was never given. (Just so it's clear: you can't really distinguish between Islam and Islamism – one follows the other)."
The post was written as a comment to an opinion article "Islam is taking hold" by the controversial Hege Storhaug, head of Human Rights Service.