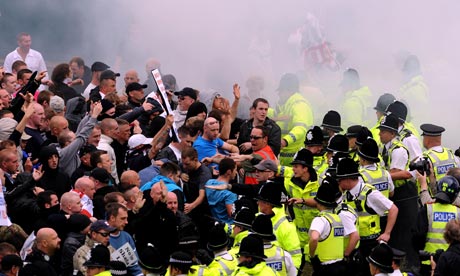 A meeting with Preston councillors last week shows the extraordinary measures that police are prepared to use to block protests against the racist English Defence League (EDL). Preston independent socialist councillor Michael Lavalette told Socialist Worker about a police briefing of Preston council. The police asked to meet councillors about an EDL march planned for Saturday 27 November.
"I was shocked at what they came out with in that meeting," Michael said. "They said that the EDL's website states that it is a non-racist, peaceful organisation and that they would have to take that at face value. They said that the EDL has a right to protest and the police have to stay neutral. But then they launched a disgraceful attack against Unite Against Fascism (UAF).
"They told us that it is counter protests organised by UAF that cause trouble. They said that UAF is a front for the extremist Socialist Workers Party. The tenor was clear – UAF is as much of a problem, if not more so, than the EDL. I was furious and pointed out that UAF includes several national trade unions, MPs and labour movement activists."
In the meeting with the police Michael said most EDL protests end in violence. "I pointed out that every protest has involved attacks on the police. In Stoke they ran riot and attacked cars and shops. I think the police wanted to use the meeting with councillors to clamp down on any counter protest and to abuse UAF.
"The EDL is being allowed to assemble outside the main church on the high street which is a five minute walk from Preston's main mosque. If EDL supporters are allowed to march the 300 metres through the town to the Flag Market, they will be within minutes of Preston's Asian community."