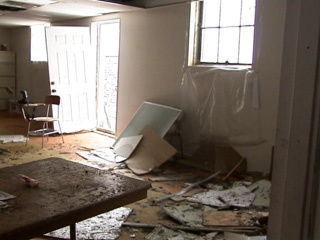 The fire, smoke and water damage is visible in a classroom and prayer area of a Detroit mosque. Smoke and flames were seen coming from the Islamic Center of North Detroit on North McDougall around noon on April first.
No one was hurt, but an insurance investigator who came to check out the damage immediately became suspicious. "I have a feeling that the fire did not start accidentally," said insurance investigator Michael Roarty. "Just based upon the examination of the burn patterns that were up there." He called the FBI and the Bureau of Alcohol, Tobacco and Firearms. Agents took samples and looked for evidence on the roof of the building where it's believed the fire started.
"It would be a big tragedy if someone either inside this neighborhood or outside came to put a mosque on fire," said Dawud Walid with the Council on American-Islamic Relations Michigan.
In the wake of the fire, daily prayer services have been moved to a nearby school. A $5,000 reward is being offered for information that leads to the suspected arsonist.