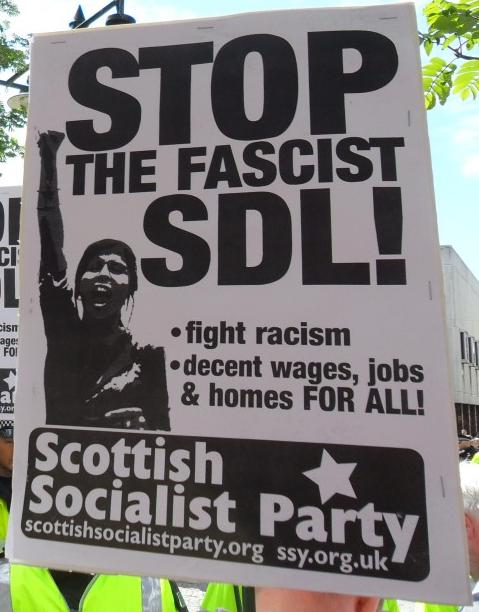 A controversial far-right group is set to win permission to stage a demo in Edinburgh after police chiefs said they had no objections to the Scottish Defence League being allowed to stage a parade – despite protests from politicians, trade unions and anti-racism organisations.
Critics believe the group has deliberately chosen the date to inflame racial hatred and capitalise on recent publicity linking its sister group, the English Defence League, with Norwegian terrorist Anders Breivik.
The SDL has given Edinburgh City Council, which will rule on the application tomorrow, "freedom of speech" as the main reason for holding the event, which it expects to attract around 200 supporters.
Justice secretary Kenny MacAskill wants the protest banned, claiming the group is known to espouse "both racist and homophobic views" and expressing concern the march could pose a threat to public safety. Local MSPS are also among those against the application.
Lothian and Borders Police has warned the local authority to consider the group's proposed demo "in the context" of the recent riots that flared across several English cities.
But it has effectively given the green light to the march, which will include a rally beside the statue of the Duke of Wellington, despite admitting the group's views are "controversial" and that a sizeable "opposition rally" is likely to be held.
Superintendent David Carradice has told the council he is confident the force can handle a demo by the SDL and any planned counter-demonstration, insisting it is used to catering for groups that want to "exercise their right to protest".
He said: "Whilst there can be no guarantees there will be no disruption to the daily business of the community, we are confident that, with the assistance of the council, an operation can be put into place to minimise such and thereby allow the SDL rally to go ahead and cater for an opposition rally too."
Update:  See "Council to decide whether far-right group march through Edinburgh", STV, 19 August 2011