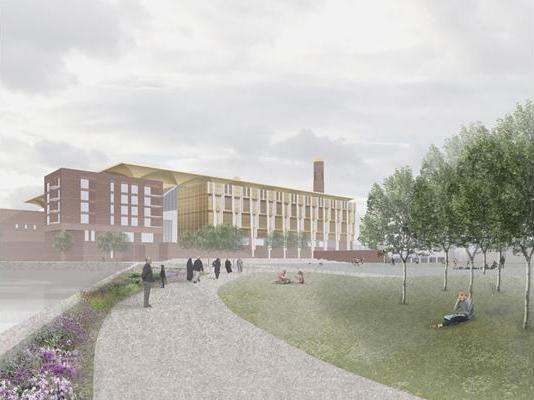 The Architects Journal reports that NRAP Architects have submitted an outline planning application for a 9,500-capacity mosque at the Riverine Centre in Newham and provides "exclusive images" of the plan. Unfortunately, to subscribers only.
However, the Riverine Centre website has been updated with details of the plan. You can consult an overview of the proposals here.
It would obviously be too much to ask that the right-wing press should cease referrring to the development as a "mega-mosque", but perhaps they could bring themselves to stop publishing references to and illustrations of the old Mangera Yvars design for a 12,000-capacity mosque that was scrapped five years ago.
Update:  There's also an article at Building Design, which reports:
"NRAP was appointed in 2011 and drew up plans that included retail units and 300 flats on the 6.5ha site near the Olympic Park. But these have now been dropped after the Muslim community that is funding the 9,350-capacity mosque – including 1,830 segregated places for women – objected to the idea of its donations going towards a commercial venture.
"The scheme submitted to Newham Council by the controversial Islamic missionary movement Tablighi Jamaat is for a mosque, 2,000-capacity dining hall and Islamic library, plus a sports pavilion and playing fields for the wider community. There will also be children's facilities, eight flats for imams and overnight visitors and 300 car parking spaces."