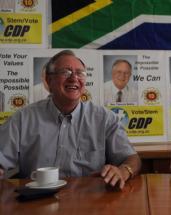 Religious intolerance is dividing the mostly Christian community of Pretoria's Valhalla suburb.
The Thaba Tshwane Islamic Centre Trust's plan to build a mosque in the quiet neighbourhood is at the centre of the tension. Residents are concerned about being disturbed by the mosque's azaan, the Muslim call to prayer chanted five times a day.
"This is a long-established community; it is a Christian community," said Christian Democratic Party leader and resident Theunis Botha, a church minister [pictured]. He said there was no need for a mosque in the suburb because there was only a handful of Muslims in the area.
Botha said there were mosques in nearby Erasmia. "We can hear them shouting from their towers in Erasmia when we are here in Valhalla," he said. He said Muslims "do not want to integrate, they want to take over" as they did in Erasmia.
Botha accused the "arrogant and intransigent" Tshwane municipality of disregard for processes for donating the land to the trust without consulting local residents.
He was backed by Denise Eaton, 67, who said she had heard from DA ward councillor Ina Strijdom last month that the municipality had given residents only 24 hours to respond to the mosque plan. "That land was a park when we moved in here in 1986 but it was neglected after 1994. We pay tax for the park – at least we should have been consulted," she said.
Valhalla Residents' Association chairman Noel Brinton said the association had not received a response to its petition to the council three weeks ago opposing the building of the mosque. "What we are told is that we are not allowed to have a culture and we are not allowed to have any determination within that culture," he said.
Yaseen Abdul, chairman of the Thaba Tshwane Islamic Centre Trust, said the trust "offered to buy the land but the municipality said it will be donated". He said there were more than 100 Muslim families in the area. "We have been told to get out… We have been told we are terrorists and that we must go back to our country," he said.
Abdul said the Muslims were willing to compromise to accommodate the Valhalla community. "But we are not going to stoop down to the level of [Theunis] Botha," he said.
Tshwane municipality spokesman Blessing Manale said land donations were approved by the council. "All land disposals are put on public notice for 30 days as required by law," he said. Manale said Strijdom had had the opportunity to object to the council.
---
As the report indicates, Theunis Botha's vehement opposition to the mosque is not unconnected with the fact that he is the leader of a small right-wing political party, the CDP.