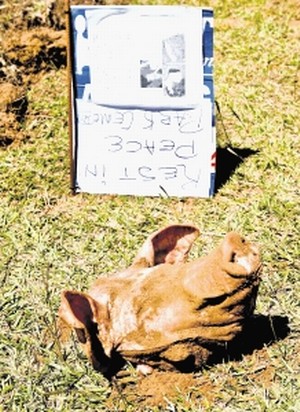 Worshippers attending morning prayer at a Mpumalanga mosque were startled by the sight of two pigs' heads buried on the property.
The heads were found buried at the construction site of the Emalahleni Jumma Musjid in Emalahleni, formerly Witbank, on Tuesday morning. The mosque is presently housed in a temporary steel structure in the town centre. Construction of a permanent building is due to begin mid-year.
Farouk Arbee, secretary of the Witbank Muslim Jamaat – which owns the mosque – said the Muslim community were dismayed by the deplorable act by people attempting to desecrate the site.
"Such contempt for an intended place of worship is an act of barbarism which cannot be condoned in a diverse society like ours that is built on mutual respect and understanding. All Muslims in Emalahleni in particular and everywhere else in the country should act with restraint to such a provocation. We are confident that this act of provocation originating from a disgruntled minority will not be condoned by all peace-loving residents of Emalahleni," said Arbee.
Alongside the swine heads was a board with the words: "People from all over the world need to take a lesson from the Spanish! In Seville local people found a way to stop the construction of another mosque in their town. They buried a pig on the site, and made sure this would be known by the local press. Islamic rules forbid the erecting of a mosque on 'pig-soiled ground'. The Muslims had to cancel the project. This land was sold to them by government officials. No protests were needed by the local people… and it worked!"