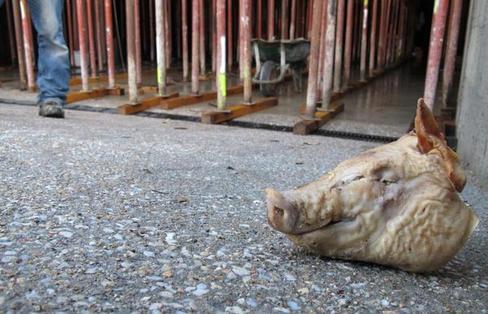 Fait Réligieux reports that on Friday 8 November workers at the new Turkish cultural center under construction in Amboise, in the Indre-et-Loir department in west-central France, found a pig's head on the site.
This is the third such incident there. Kazim Oflu and Ismail Ozdemir, secretary and president of the Association culturelle turque d'Amboise (Acta), said: "Another pig's head was left here recently. And on 29 September 2012 we found a boar's head, under the same circumstances: on our way to noon prayer, on a Friday."
Previously, although they had filed complaints with the police, Acta had not alerted the press to these incidents, in order to avoid "pouring oil on the fire", said Kazim Oflu. But they had changed their minds after this latest "provocation". In addition to the police, Acta has also informed the Turkish embassy in Paris.
The construction of the cultural centre began in February 2012. It has been funded by donations, mainly from the 500 families who are members of Acta.
See also La Nouvelle République, 9 November 2013
See also "Islamophobie : une tête de porc déposée au centre culturel turc d'Amboise", Ajib, 9 November 2013