A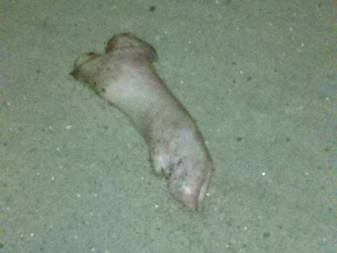 civil rights advocacy group has urged the federal Justice Department to investigate who is responsible for leaving pig feet at the site of a planned mosque in Ontario.
In a letter sent to the U.S. Department of Justice on Thursday, the Greater Los Angeles Area chapter of the Council on American-Islamic Relations urged the government to probe the incident as a hate crime.
Three pig legs were left at the future site of the Al-Nur Islamic Center.
Worshippers told CAIR-LA that the pig feet were thrown on the site's driveways just before 10 p.m. Tuesday by two women who then drove off in a white pick-up truck. A security guard witnessed the incident and a report has been filed with the San Bernardino County Sheriff's Department.
"We urge the DOJ to investigate possible federal charges for the perpetrators of this disturbing incident," CAIR-LA Executive Director Hussam Ayloush said in a statement. "Only firm action by local, state and federal law enforcement authorities will send the message that bias-motivated attacks on Muslims, or Americans of any faith, will not be tolerated."
Press-Enterprise, 10 August 2012
See "CAIR asks DOJ to probe pig legs left at proposed Calif. mosque site", CAIR press release, 10 August 2012