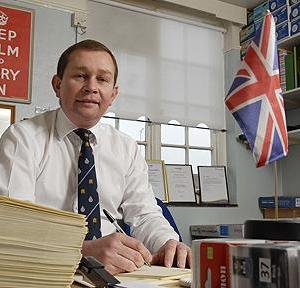 The Government should press on with banning the veil in Britain after a French law doing the same was upheld by the European Court of Human Rights, a Tory MP said today.
Kettering MP Philip Hollobone, who has proposed back bench legislation to ban face coverings in the past, urged Commons Leader Andrew Lansley to find time for a Government statement on the issue. Mr Hollobone, a prominent eurosceptic who more typically criticises the European Court, raised the issue at the weekly Commons business statement.
He said: "This week finally, at long last, we have had a sensible decision from the European Court of Human Rights about something.
"Given this week, the court has decided that the ban on Islamic veils in France breaches no-one's human rights, will you or another member of the Government next week make a statement to the House that Her Majesty's Government intends to introduce such legislation into this country?
"We will never have a fully functioning, fully integrated multi-cultural society if growing numbers of our citizens go around with their faces covered."
But Mr Lansley replied: "I did note that court decision… part of that decision was about the issues of subsidiarity and the right of countries to make these decisions for themselves. In that context I don't anticipate a statement by a minister in the form you seek."
On Tuesday, the European Court of Human Rights declared in a landmark decision the French ban does not breach human rights laws.
The test case was brought by a French woman in her mid-20s who is a devout Muslim no longer allowed to wear in public the burka, which covers the whole body, or the full-face niqab veil, because a new French law prohibits concealment of the face in public places.
She complained that the new law, which came into force in April 2011, infringed the European Convention on Human Rights because it amounted to discrimination on grounds of sex, religion and ethnic origin.
But the European Court ruled that promoting respect for the conditions in which people "live together" in public places was a legitimate aim justifying the ban and did not breach the convention.