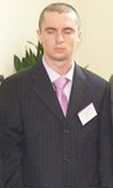 A gifted student has pleaded guilty to a campaign of terrorist attacks in the Midlands in which he stabbed to death a Muslim grandfather and staged bomb attacks against mosques in an attempt to murder and maim worshippers.
Pavlo Lapshyn, 25, a Ukrainian, admitted to police that he hated anyone who was not white and that he wanted to carry out a series of violent attacks to convulse community relations in Britain and start a race war.
His campaign started in April 2013, five days after his arrival from Ukraine, where he had won a prize to study engineering and gain work experience in the UK. When the PhD student was arrested in July, hours before it was feared he could strike again, police found three partially assembled bombs in his Birmingham flat.
The Guardian has learned his terror campaign caused alarm at the top levels of the British government, with the domestic security service MI5 joining the police-led hunt.
His bombing campaign started after the murder of Fusilier Lee Rigby in a London street. Lapshyn's final bomb exploded weeks later on the day of Rigby's funeral. Police believe Lapshyn's campaign was not motivated by the murder of the soldier and that the Ukrainian acted alone.
On Monday, Laphshyn pleaded guilty to all offences at the Old Bailey in London, having confessed to them during police interviews. He will be sentenced later, although as murder carries a mandatory life sentence the issue will be how long he will be imprisoned before he can be considered for parole.
Lapshyn stabbed to death 82-year-old Mohammed Saleem in Birmingham in April, then acquired materials for bombs in May. By June he had started placing homemade explosives outside mosques on Fridays, the main day when Muslims attend places of worship.
The device he planted in July, which had 100 nails wrapped around it to maximise the carnage, was aimed at worshippers at the Tipton mosque, where 300 were people expected to attend prayers. But Lapshyn did not realise prayers that particular Friday were held one hour later, hence mass casualties were avoided. The device was so powerful it left nails embedded in tree trunks, police said.
The search for Lapshyn was the most intense hunt for a serial bomber on the British mainland in years.
West Midlands police said their inquiries showed Lapshyn acted alone, with no contact with any other group or individual in the UK or abroad. Assistant Chief Constable Marcus Beale, head of the West Midlands counter-terrorism unit, said Lapshyn was "self radicalised" and taught himself how to make bombs off the internet.
After his arrest Lapshyn told officers the attacks were motivated by his racism. He told police: "I would like to increase racial conflict" and felt a series of explosions would achieve more than one big attack. He was explicit about his motivation for the Tipton mosque attack in an interview recorded after he was cautioned: "The purpose was to commit a terrorist act." He said he murdered Saleem because "I have a racial hatred so I have a motivation, a racial motivation and racial hatred".
Detectives who interviewed him described him as "calm and calculated". He even told police he carried out an attack near the mosque in Wolverhampton, which they had previously been unaware of.
Lapshyn was a gifted student who was studying for a PhD in machine building.
Social media pages belonging to him contain extremist rightwing and Nazi material. There were images of Timothy McVeigh, whose bomb attack on a US government building in Oklahoma in 1995 killed 168 people. Ukrainian researchers say Lapshyn's social media pages contain material relating to Hitler, about contemporary Nazis, and rabidly antisemitic material.
A laptop seized by British police contained an extremist rightwing publication, The Turner Diaries, also believed to have been read by McVeigh. Further extremist material was found on Lapshyn's laptop, plus details of planning and virtual reconnaissance for the attacks. There were bus timetables to get him to the mosques he attacked, as well as press coverage of Mohammed Saleem's murder.
Police say they found no material belonging to British groups such as the British National party or the English Defence League. Nor was there material suggesting his bombing campaign was incited by the terrorist murder of Lee Rigby on 22 May, which occurred a month before Lapshyn's first bomb attack. The attack on the Tipton mosque, on 12 July, took place on the same day as Rigby's funeral.
Lapshyn came to Britain after winning a competition to study at Coventry University and work at a software firm in Birmingham, which also provided him with a flat at the back of its offices in Small Heath, Birmingham. At a prize-giving ceremony he stood next to the British ambassador to Ukraine.
Police say their inquiries showed no links to groups in Ukraine. Police there had arrested and fined him after an explosion in his flat in Dnipropetrovsk, Ukraine, which may have shown an early interest in explosives.
See also "Ukrainian 25-year-old postgraduate student charged with terror attacks in England", Anton Shekhovtsov's blog, 22 July 2013
Update:  See "Student packed hundreds of nails in mosque bomb", ITV News, 21 October 2013