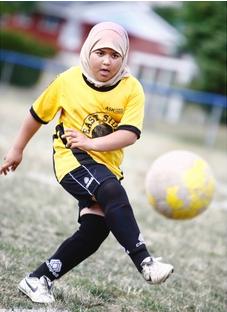 A nine-year-old Gatineau girl who refused to remove her headscarf was forced to stand on the sidelines Sunday as her team played – and won – the final match of a soccer tournament.
The order came just days after the International Football Association Board voted to lift its ban based on the fact that "there is no medical literature concerning injuries as a result of wearing a headscarf," the organization stated on its website.
Rayane Benatti was told to take off her headscarf for safety reasons, but she refused. "It made me feel very sad," she told the Citizen in French on Monday. "I love soccer. I get to run around and do teamwork – I really like that."
Gatineau's regional soccer association maintains that it made the right decision. Until the international organization approves a design, colour and material for headscarves during matches, "scarves of all sorts" will remain banned, said Gatineau's director of tournaments Marc St-Amour.
"It's not because she was wearing a hijab – it's because she was wearing a piece of equipment that is not recognized," St-Amour said.
On July 5, the International Football Association Board "agreed to unanimously approve – temporarily during a trial period – the wearing of headscarves." The organization will define the design, colour and material at a meeting in October. "The piece of equipment needs to go through a process," St-Amour said.
On Monday afternoon in Gatineau's Jolicoeur park, Rayane was running around the soccer pitch with her two older brothers, wearing her beige headscarf and her yellow No. 7 Atomique Jaune team jersey. She paused for a moment each time she kicked the ball toward the net, her tongue sticking out of the corner of her mouth – a personal trademark of concentration.
Rayane said the headscarf, which fits neatly over her head and is tucked under the collar of her jersey, is comfortable. Her mother pulled gently at the fabric to show the scarf is secure yet stretchy. "It doesn't make sense," said Fatima-Zohra Elmarhoum. "It's a piece of fabric."
What was supposed to be a three-day tournament under the sun turned into weekend of confusion, said Elmarhoum. Due to protests, Rayane was allowed to play a game on Friday and another on Saturday morning but was refused participation in the following three games.
"As a mother, I was really sad for my daughter and frustrated about the rule. She's a child who simply wanted to play and she was not allowed," Elmarhoum said. "It's not fair."
Despite her love of soccer, Rayane said she was glad she refused to remove her scarf – an item she has been wearing daily since October 2011. "I decided to wear the headscarf out of love for Allah," Rayane said. "Some people decide not to do it because they don't have enough courage. I had the courage to do it."
See also "Hijab-wearers still sidelined", Montreal Gazette, 9 July 2012
Update:  See "Human rights organization denounces decision by l'Outaouais soccer association to ban Muslim player", CAIR-CAN press release, 10 July 2012
Update 2:  See "No excuses for banning hijabs on the soccer pitch", editorial in Montreal Gazette, 10 July 2012
And "Just let the girl play soccer", editorial in Ottawa Citizen, 10 July 2012