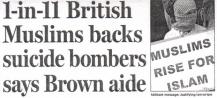 "As many as one in 11 British Muslims agree with and proactively support terrorism, a Government adviser has warned police.
"Haras Rafiq also told officers at Scotland Yard that up to 20 per cent of the Muslim population 'sympathise' with militants, while stopping short of being prepared to 'blow themselves up'. His remarks underline the scale of the task facing Gordon Brown to win the hearts and minds of Muslims, only a week after he promised an extra £70 million to councils and community groups to fight extremism.
"Mr Rafiq, an adviser to the Government's preventing extremism taskforce, said: 'A percentage of people actually agree and support proactively the people that are deciding to blow themselves up. It varies, it can be 7 per cent, 5 per cent, 9 per cent'. With 1.6 million Muslims living in the UK, nine per cent is the equivalent of 144,000 people supporting terrorism."
See also Jihad Watch, Western Resistance, CBN News and BNP website
Yes, that's Haras Rafiq of the so-called Sufi Muslim Council. The reality is that when British Muslims are asked a straight question about whether they support terrorist attacks in the UK, the actual figure for those saying they do is between one and two per cent. See for example the 1990 Trust's survey (pdf here) from October 2006.