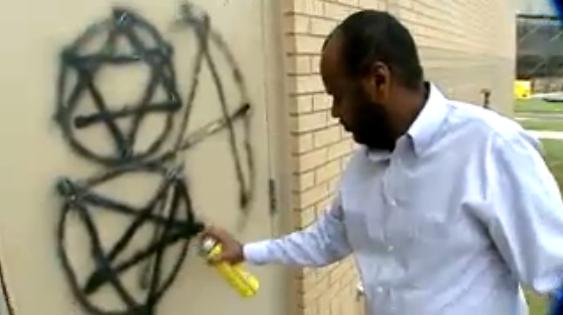 Vandals have struck again at a mosque in northwest Oklahoma City. Now leaders in the local Muslim community are asking if this attack could be due to a rise in anti-Islamic sentiment after the Boston Marathon bombings.
Hassan Ahmed [pictured, cleaning off some of the graffiti], the director of the American Muslim Association Mosque, in the 3200 block of NW 48th, spotted graffiti on the building early Saturday morning. "It is very sad that you see some people are actually putting some graphic symbols, the f-word, n-word, on the mosque or even a church or a synagogue, its very sad," Ahmed said.
Ahmed said he checked security cameras and found video of two young men painting, then running away. He's given a copy of the video to the FBI. The FBI is investigating the incident as a potential hate crime.
Adam Soltani the executive director of the local chapter of the Council on American-Islamic Relations, hopes the FBI will look into whether this crime is somehow related to the Boston Marathon Bombings. "Hearing about this, it kind of really just hurt because it was almost like are we facing a possible anti-Islamic or anti-Muslim backlash as a result of those tragic incidences that happened in Boston," Soltani said.
This is the second time within nine months the mosque was vandalized. In August, someone shot paintballs at the mosque. Since then, Soltani said anti-Islamic sentiment in the metro had calmed down, until the bombings and some recent rhetoric by state government leaders.
Solatani said CAIR Oklahoma will reach out to other Muslim communities in the metro to make sure they take some extra safety precautions.
If you know anything about this case, call the FBI at 290-7770.
See also KOCO, 27 April 2013
Update:  See "CAIR asks FBI to probe Okla. mosque vandalism as part of Boston 'backlash'", CAIR press release, 28 April 2013