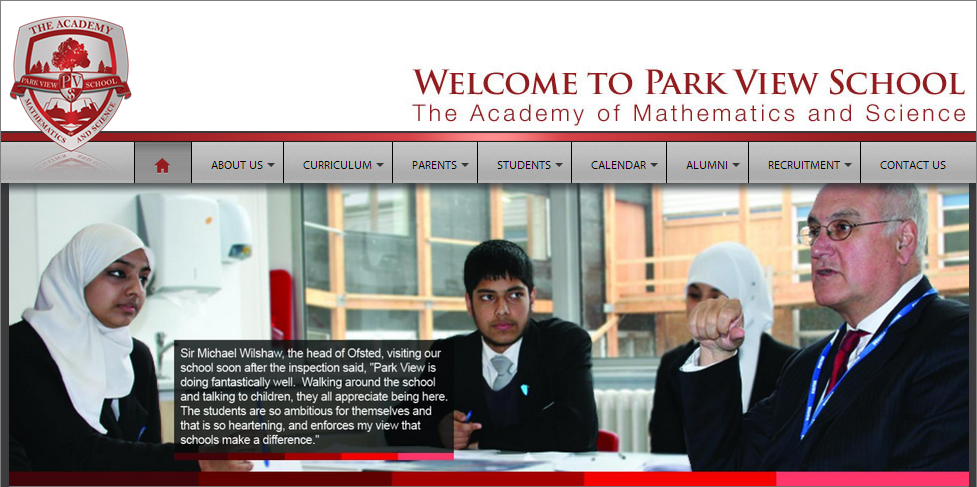 Ofsted's first inspection of Park View academy – at the centre of the Trojan Horse allegations of an Islamist plot – cleared the school of allegations of discrimination and retained its "outstanding" rating, according to a leaked draft of the inspector's recommendations seen by the Guardian.
The results of that initial inspection were rejected just a few days later when Ofsted inspectors re-entered the school and overturned their initial findings, replacing a string of relatively minor recommendations with more severe criticism that could see it placed in special measures as early as next week.
The revelation is the latest twist in the so-called "Trojan Horse" saga, which has seen claims of Islamist plots to take over schools in Birmingham turn into a political row that has engulfed the education secretary, Michael Gove, Ofsted chief inspector, Sir Michael Wilshaw, Birmingham city council and Britain's former senior anti-terror policeman, recruited by Gove as a special education commissioner.
At the centre of the saga is Park View, a school rated by Ofsted as outstanding as recently as 2012 and praised by Wilshaw for its extraordinary exam success, despite having 60% of its pupils eligible for free school meals – three times the national average – in a deprived, heavily Muslim part of Birmingham.
The school's first Ofsted inspection report on 7 March – widely circulated within the government – made a series of relatively minor recommendations, and criticised the school's leadership. Among the recommendations it made were calls for "improving systems for safeguarding students" that included "strategies to ensure students are safe from extremism" and a review of monitoring of the school's equality policies. The inspectors also said that the school needed to review its programmes for "spiritual, moral, social and cultural development", to ensure that "students are well prepared for life in modern democratic Britain and a global society, and extremist behaviour prevented".
But the recommendations bore little resemblance to more extreme claims by former staff at Park View, including that pupils were segregated by sex within classrooms, girls were being put at the back of the class and treated differently to boys, and of enforced obedience to Islamic customs, such as headscarves for girls. It also made no mention of homophobia, which had featured prominently in media reports involving the school since the initial story broke.
Despite discussions between Ofsted and the school over the wording of the initial recommendations, Ofsted staff returned to Park View unannounced on 17 March, and abruptly widened the status of the investigation – converting it to a full-blown inspection. During the second inspection it is understood Ofsted staff ruled that the school had failed to correctly teach "e-safety" rules aimed at preventing cyber-bullying and online abuse.
As a result, when Ofsted publishes its final report the school is all but certain to be downgraded to "inadequate" – Ofsted's harshest rating – and be placed in special measures, stripped of its governors and managing trust, and handed over to new, approved management – with one candidate being the Perry Beeches academy trust, a successful group of academies frequently praised by Gove.
The dramatic consequences for Park View and its 700 pupils would have been avoided by the initial report by the head of the Ofsted inspection team, which would have instead lowered the rating of the school's management to "requires improvement". Under Ofsted rules, that would have allowed the school to remain "outstanding" because of its strength in other categories.
That decision would also have reprieved the school's current management, Park View Education Trust. But it would also have prompted questions about the inquiry that has thrown 25 schools in Birmingham into turmoil since the Trojan Horse letter first surfaced in public on the front pages.
Park View school had been in the spotlight since the Trojan Horse letter in February claimed that it was one of a group of schools in the city targeted for takeover by Islamist extremists – and that Tahir Alam, chair of governors at Park View for 17 years and a former pupil, was one of the ringleaders behind the plot, which he denies.
Although the anonymous letter's authenticity has been questioned, it was still regarded as credible enough in Whitehall for Gove to appoint Peter Clarke, a former senior police officer who had headed the Met's counter-terrorism squad during the July 7 bombings in London, as a special education commissioner to investigate the allegations of extremist infiltration.
Some 25 schools in Birmingham are being inspected by one of the four investigations, with Ofsted expected to publish inspection reports into 21 of the schools, including Park View, early next month. Park View's status is unusual, because of its extraordinary academic success in one of the poorest parts of Birmingham.
An Ofsted spokesman said: "It would be inappropriate to comment before the inspection report is published."