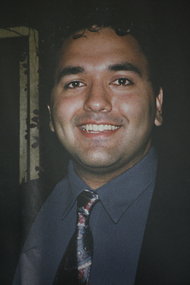 He was buried after the Sept. 11 attacks with full honors from the New York Police Department, and proclaimed a hero by the city's police commissioner. He is cited by name in the Patriot Act as an example of Muslim-American valor.
And Representative Keith Ellison of Minnesota, one of two Muslim members of Congress, was brought to tears during a Congressional hearing in March while describing how the man, a Pakistani-American from Queens, had wrongly been suspected of involvement in the attacks, before he was lionized as a young police cadet who had died trying to save lives.
Despite this history, Mohammad Salman Hamdani is nowhere to be found in the long list of fallen first responders at the National September 11 Memorial in Lower Manhattan.
Nor can his name be found among those of victims whose bodies were found in the wreckage of the north tower, where his body was finally discovered in 34 parts.
Instead, his name appears on the memorial's last panel for World Trade Center victims, next to a blank space along the south tower perimeter, with the names of others who did not fit into the rubrics the memorial created to give placements meaning. That section is for those who had only a loose connection, or none, to the World Trade Center.
The placement of Mr. Hamdani's name has fueled the continuing concern and anger about how his legacy was treated soon after the Sept. 11 attacks, when, apparently because of his Pakistani roots, Muslim religion and background as a biochemistry major at Queens College, he fell under suspicion. His name appeared on a flier faxed to police stations; newspaper headlines amplified his status as a person wanted for questioning.
"They do not want anyone with a Muslim name to be acknowledged at ground zero with such high honors," his mother, Talat Hamdani, 60, said last week at her home in Lake Grove on Long Island, her voice filled with pain. "They don't want someone with the name Mohammad to be up there."