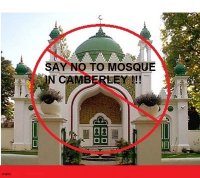 Objectors to Camberley's mosque have a final chance to sway a planning decision that apparently allowed the controversial plans to go ahead.
Surrey Heath Borough Council apologised for the "confusion" on Tuesday, but pointed out that the mosque plan had not yet been agreed and would need a second hearing before a decision could be reached.
The announcement will come as a major embarrassment for the council after it appeared to many people at Monday's planning meeting that the mosque plans had already been formally agreed.
The apparent decision to allow the mosque to be built, against the recommendation of Surrey Heath's planning experts, led to a massive public outcry from people opposing it, many of whom had assumed the plans would be blocked.
See also BBC Surrey, 28 January 2010
For an example of objections to the new mosque see the Facebook page "Say NO to mosque in Camberley!!!"