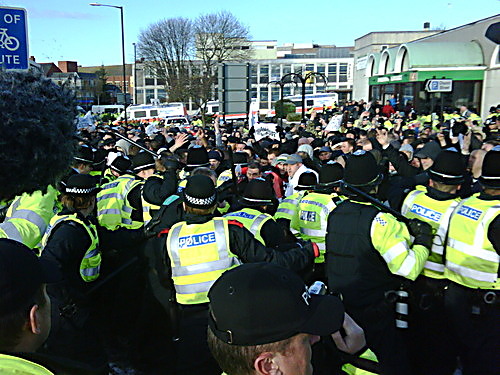 Nuneaton – police try to stop the EDL attacking local people (photo: Searchlight)
The racist thugs of the English Defence League threw lit fireworks and bottles at antiracist demonstrators from the local community in Nuneaton today.
The EDL – a violent, racist organisation with links to the British National Party and other fascist groups – mobilised across the Midlands and south of England to bring up to 800 to their Nuneaton "protest", with some coming from parts of the north, including West Yorkshire.
They threw missiles at around 200-300 counter-protestors, mainly from Nuneaton, who had gathered to show that the EDL's racism and violence is not welcome in their town.
Other members of the local community gathered to defend the area's mosque from the EDL racists, who particularly target Muslims.
The antiracist counter-demo, which was backed by trade unionists from local National Union of Teachers and Unison branches, was boosted by the arrival of local Asian youths. Despite the violence of the EDL, antiracists made sure the voice of opposition was heard.
After the EDL had gone, the antiracist demonstrators were all invited back to the local Asian community centre for hot drinks and to warm up.
UAF news report, 27 November 2010
Update:  See also "Arrests during EDL protest in Nuneaton", Sunday Mercury, 28 November 2010