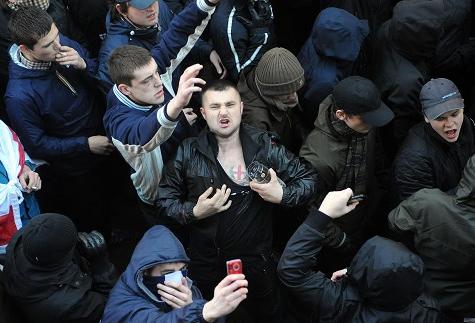 Police have made nine arrests during a protest by supporters of the far-right group the English Defence League.
Around 1,000 people joined the demonstration by the EDL in Preston city centre, and 150 counter-demonstrators from Unite Against Fascism also gathered nearby.
A spokesman for Lancashire Police said: "Although there were minor scuffles amongst the EDL demonstrators, there were only a handful of arrests for drunken or disorderly behaviour.
"Today's demonstrations have been relatively incident-free and the majority of demonstrators have left the area."
Police said officers remained in the city centre after the protest to ensure that any remaining demonstrators left the area in a peaceful manner.
Press Association, 27 November 2010
See also "Preston councillors and trade unionists stand up against EDL", UAF news story, 27 November 2010
Update:  Over at over at Hope not hate, Searchlight have some revealing pictures of the EDL demonstration. See for example below: