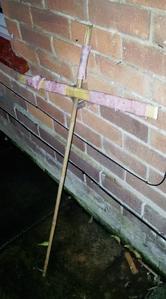 A Muslim family who had just moved into a new home are "disgusted" after a cross wrapped in ham was set alight and left on their doorstep.
Police are investigating the incident which happened in Bingham on Tuesday evening.
The family do not want to be identified but the dad, a 39-year-old who was recently made redundant from his job as a collection agent for Royal Bank of Scotland, said:
"There was a knock on the door and I went to open it. Nobody was there, but the cross was propped up against the door. It was alight, and it fell into the house when I opened the door. I noticed sliced ham was tied to it."
Consumption of pork and ham or any "flesh of swine" is forbidden in Islam.
The family had lived in West Bridgford but the 31-year-old mum and two boys, aged eight and 10, moved to Bingham about three weeks ago after the parents separated. The dad still lives in West Bridgford, but was in the house in Edinburgh Drive, Bingham, on Tuesday helping the family settle in.
He added: "I'm disgusted and shocked. My wife is in bits – she's very angry and in fear of her life. I don't want to leave my wife and kids here."
Neighbours were shocked by the incident.
Sarah Winter, 32, of nearby Hill Drive said: "It's awful. I see the lady walking her kids to school and, as a mum myself, I really feel for her. What a terrible thing to have happened. I've lived here all my life and I've never heard of anything like this before."
Flora Smith, 71, also of Hill Drive said: "I'm shocked to hear that has happened. I wouldn't say people in this area are racist at all. Putting something like that outside someone's house is very upsetting and I'm very shocked about it."
A resident of Edinburgh Drive, who did not want to be named, added: "Straightaway you think 'that must mean something' for someone to have gone to the lengths of putting a cross with ham on it together."
Police said they were investigating the incident, which happened in at 6.40pm, and appealed for anyone who may have seen someone running away from the scene to call 101 or Crimestoppers on 0800 555 111.
A spokeswoman said police were also still investigating two incidents in recent months where graffiti had been daubed on an Asian takeaway in Bingham.