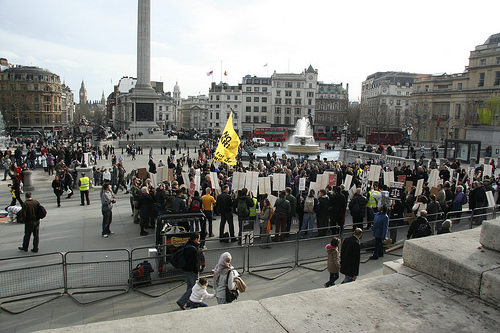 Photos are now appearing on the internet of the Worker Communist Party of Iran's "No Sharia" demonstration in Trafalgar Square on Saturday (the one above is courtesy of Yusuf Smith). As some of us predicted, it proved to be even smaller than the laughable "March for Free Expression" back in 2006. Whatever happened to the "mass demonstration" that Ruth Gledhill – no doubt briefed by the WPI – was anticipating?
I ask you, if this poor showing represents the forces that Enlightenment secularism is able to rally to its cause, how long can it be before Western civilisation succumbs to the tidal wave of Islamo-fascism?
Update:  Under the headline "One Law for All Campaign against Sharia Law in Britain's International Women's Day was a resounding success" Maryam Namazie of the WPI reports:
"Nearly 600 people joined the One Law for All anti-racist rally against Sharia and religious-based laws in Britain and elsewhere and in defence of citizenship and universal rights in Trafalgar Square and marched towards Red Lion Square in London."
Nearly 600 people? Looking at the picture above, you can only conclude that 500 of them must have been hiding behind Nelson's Column.