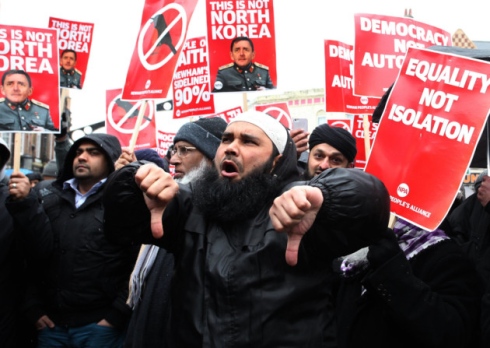 Protestors braved freezing weather conditions at the weekend to stage a repeat demonstration outside Newham Town Hall against council decisions surrounding the site of a controversial application for a 9,000-capacity mosque.
Pressure group the Newham People's Alliance organised a second protest on Barking Road against Newham Council's decision to take legal action to clear the Riverine Centre site in West Ham currently used to house the London Markaz, a temporary hub for up to 3,000 Muslim worshippers.
The NPA claim 2,000 to 4,000 people attended the demonstration but the police and Newham Council said the figure was 600 to 700 people.
At the last demonstration, council officials decided to close the Town Hall but this time it stayed open.
A spokesperson for Newham Council said: "The demonstration was small and peaceful. It did not disrupt any Council services, including the East Ham library and leisure centre which were open for residents as normal.
"The Council has followed a fair and transparent process regarding both the planning application and legal action regarding this site. Newham Council will not change that because one group, including campaigners from outside the area, say we should."
Shortly after the protest, the Newham People's Alliance posted a message of thanks on their website.
It read: "A big thank you to Newham's pensioners, workers, mothers and youth, who braved the snow and sub-zero temperatures in their thousands to tell the Mayor and his friends to keep their hands off our places of worship.
"This comes after years of disengagement, islamophobia, gagged representatives, and trophy projects at the expense of the ordinary people in one of the poorest and most disenfranchised communities in the country."
An NPA spokesperson added that the protest encouraged many people in the community to become more politically engaged and sign up to their petition to trigger a referendum on the directly-elected mayor system.