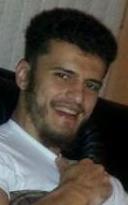 A Queens man has been trapped in Europe for the last 17 days, says a civil rights group, because his name is allegedly on the no-fly list.
Samir Suljovic, 26, first tried to fly back home to New York from Vienna, Austria, on October 1. Airline agents told the New Yorker that he could not board a return flight at the request of his own government.
On Wednesday, the New York Chapter of the Council on American-Islamic Relations (CAIR-NY) issued a statement that demands that the U.S. Department of Homeland Security (DHS) and the U.S. Customs and Border Protection (CBP) allow Suljovic to return home from his current location, Germany.
Muneer Awad, executive director of the CAIR-NY, said he has no way to know whether this is a case of mistaken identity because he claims authorities have been unresponsive.
"This is not a unique case for American Muslims who have been traveling abroad," Awad told the Daily News. "He has no criminal record, he has never been charged with anything criminal. A Muslim happened to be traveling abroad and it raised a red flag for no other reason than that he is Muslim."
Suljovic tried to contact the DHS and CBP liaison at JFK International Airport but has not received a response, says the rights group. He was advised to ask for help from the Germany's U.S. embassy. But instead of support he was allegedly interrogated and his cell phone was searched without his consent.
"I cannot sleep, eat, and sometimes I feel like I can't breath [sic], knowing my son is homeless in a strange land and our government has done nothing to help us," Suljovic's mother was quoted by CAIR-NY as saying.
"This is an abuse of power by our federal agencies," said Awad. "Our government cannot ban American citizens from returning home without due process of law."
CAIR-NY sent a letter with its demands to Secretary of State Hillary Clinton, DHS Secretary Janet Napolitano, New York members of the U.S. Congress and the U.S. Embassy in Munich, Germany.
"The denial of Mr. Suljovic's right to return home without due process of law constitutes a grave violation of his civil rights and liberties," the letter reads. "Instead of protecting this young U.S. citizen while he traveled abroad, the government has effectively stranded him in an unfamiliar country without shelter or protection."
Suljovic, born and raised in Oakland Gardens, Queens, was attending Queensboro Community College, according to CAIR-NY's statement. He initially traveled to Europe to visit family and friends in Montenegro.
"He has never done anything wrong," his mother said. "He choses [sic] to be a good Muslim. That's not a crime in America."