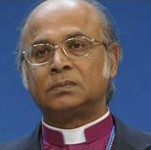 The Church of England was accused by one of its most senior bishops yesterday of failing in its duty to convert British Muslims to Christianity.
The Bishop of Rochester, the Rt Rev Michael Nazir-Ali, said Church leaders had rightly shown sensitivity towards Muslims as part of efforts to welcome minority faiths. But he said: "I think it may have gone too far and what we need now is to recover our nerve." "Our nation is rooted in the Christian faith, and that is the basis for welcoming people of other faiths," he said.
The Pakistani-born bishop, who in 2002 was tipped to become Archbishop of Canterbury before Dr Rowan Williams took over from Dr George Carey, was echoing concerns that many Church leaders are abandoning attempts to spread Christianity among Muslims out of fear of a backlash.
Members of the Church's "parliament" have now forced the highly sensitive issue on to the agenda of this summer's General Synod – despite the efforts of liberal bishops to warn them off. A private members' motion calling on the bishops to clarify their strategy has gathered so many signatures of support from Synod members that it has leapt over others in the queue for the July meeting in York.
Synod member Paul Eddy, who tabled the motion, said that the active recruitment of non-believers and adherents of other faiths had always been a Biblical injunction on Christians, commanded by Christ himself. But he claimed that many bishops were downplaying the missionary role of the Church and official documents often glossed over the requirement to convert Muslims, Hindus, Sikhs or followers of other religions. He warned that the central role of Christianity in Britain was being eroded, and by "allowing the rise of another religion in our country, all that Britain stands for is up for grabs".
Update:  See "Church of England row over Muslim conversion", Daily Telegraph, 26 May 2008
Further update:  See also Sunny Hundal's comments at Pickled Politics, 28 May 2008