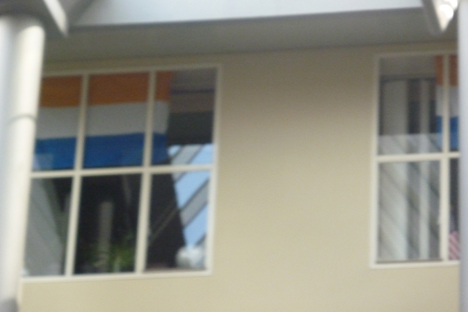 An early version of the Dutch flag which became associated with the Dutch Nazi party in the run up to World War II has been removed from PVV's parliamentary offices.
Two flags – horizontal orange, white and blue stripes – were spotted hanging in the window of the anti-Islam party's meeting room and photographed by free newspaper Spits. However, they were removed early on Wednesday, following the newspaper publication. MP Karen Gerbrands denied on national radio that there were any flags at all, Spits said.
The flag, known as the Prinsen flag, was carried by supporters of William of Orange during the 80 Years War against Spain and adopted by the national socialists at the end of the 1930s. In 1937, queen Wilhelmina decreed the Dutch flag would be red, white and blue because of the nazi associations. The Prinsen flag is still used by neo nazi groups today, according to social historians.
The presence of the flag is noteworthy because of the party's anger at being likened to the NSB. Party leader Geert Wilders declined to comment, Nos television reported.