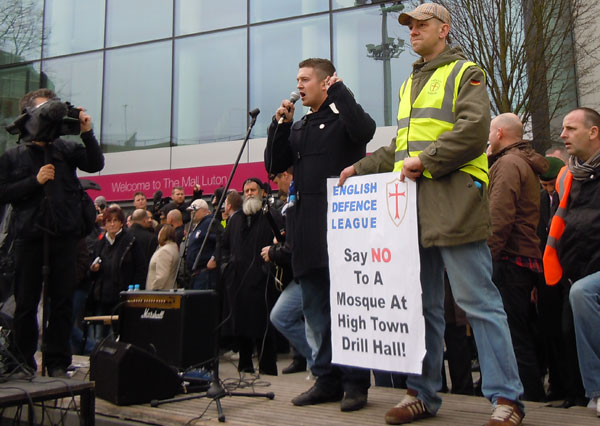 Stephen Lennon ("Tommy Robinson") speaking at an EDL protest in Luton on 5 February
A group of Shia Muslims have denied rumours they plan to create a "super-mosque" in High Town, saying the facility will be a community centre.
Leaflets have been distributed to homes in High Town saying the Old Drill Hall in Old Bedford Road will become a mosque, and the English Defence League has accused Luton Borough Council of selling off land that was intended for affordable housing.
But the Masjid-e-Ali group, which currently meets at premises in Moor Street, says that if it is successful in purchasing the 8,500 sq ft building, which has 100 parking spaces, it will be open to all members of the community. They say it will have prayer facilities, but will not be a mosque.
A spokesman for Masjid-e-Ali said: "Basically this will be a community centre, open for all of the community. There is no question of it being a mosque. We haven't got any contract yet, it's all up in the air at the moment. But we wouldn't do any major changes, it would only be internal decoration. We would have lunch clubs for the elderly, sports activities for young people."
The spokesman said the centre would be "multi-cultural and multi-faith". He said all members of the community would be welcome, as long as the respected the group's "rules and regulations" of acceptable behaviour, and said there would be no segregation of men and women at the centre. The group's website says it would also seek to provide banqueting facilities for weddings, an NHS walk-in clinic and a service for making funeral arrangements.
One High Town resident said she was upset at the way the plans had been portrayed to the neighbourhood by the English Defence League. She said: "I'm very unhappy about this. It's another nail in the coffin of race relations in this town. At the moment the building is just a rotting heap that gets vandalised – people should be happy that it's going to be looked after and cared for. It's got a very long history and I would be happy to see it get a new lease of life."