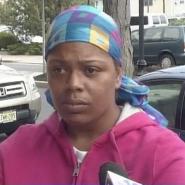 ATLANTIC CITY — 29 year old Lenora Gordon says she was discriminated against while trying to enter the Atlantic County Civil Court Wednesday morning.
When she tried to enter the courtroom, she claims she wasn't allowed in because of the head scarf she was wearing. "I came back out to meet my cousin, then all of a sudden I tried to enter the courtroom again and they said 'oh well she can't come in here with the scarf on'," said Gordon.
Being of the Muslim faith, Gordon says she can't remove her scarf for religious purposes, and never in front of men. "They actually want me to take my scarf off in front of the whole courtroom, which I can't do that, it's against my religion," Gordon said.
According to Sheriff Frank Balles of Atantic County, officers posted at the courthouse didn't recognize as part of a religious attire, and that the scarf didn't exactly match typical Muslim clothing. "The scarf that she had on had no resemblance to a religious headgear whatsoever," said Sheriff Balles.