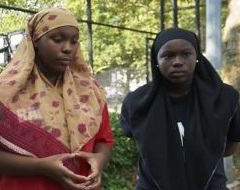 Two Muslim teenage sisters say the NYPD brutalized them and ripped off their hijabs after they were ordered to leave a Bronx park Monday night. In what appears to be an exclusive report, the Daily News says that Lamis Chapman, 12, and Khalia Wilson, 14, were thrown to the ground and had their head scarves ripped off by the officers at the Lester Patterson Houses in Mott Haven. Khalia says she was put in a choke-hold, telling the tabloid, "They said they asked for ID. I didn't hear them."
When their brother Shytike Wilson, 15, tried to intervene, he says cops "slammed me on the floor" and arrested him. Jonathan Harris, an 18-year-old college student, was also arrested and charged with disorderly conduct. He says he was pepper-sprayed, and that the police singled him out because he was documenting the arrest on his cellphone:
"Come here, you little motherf—er," the cop said, according to Harris. "You like recording?"Harris said he sprinted towards a nearby building, but an officer caught him and tackled him, pushing his face in the dirt, and wrenching his arm behind his back. He said one officer punched him in his eye while he was down. "Where's the phone?" the officer screamed, Harris said. "I'll break your arm."
So far Harris's video does not appear to be online. NYPD Internal Affairs is investigating the arrests, and the NYPD press office did not immediately respond to a request for comment. Check out the whole story on the Daily News site.