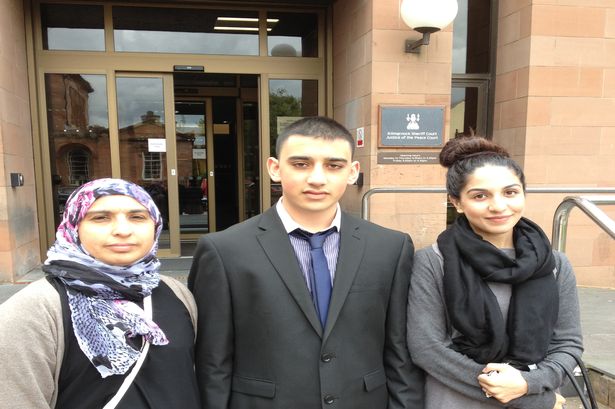 A Muslim teenager who suffered a slew of sickening racial taunts at school told how he "flipped" moments before threatening a fellow student with a knife.
Hassaan Mansoor, aged 17, snapped following vicious abuse from classroom bullies at Garnock Academy who branded him a "terrorist". Mr Mansoor, of Howat Crescent in Irvine, was warned that because his mother wore a headscarf she would be stabbed if she came to school.
Appearing at Kilmarnock Sheriff Court, he was spared jail and given a year's supervision and told to serve 130 hours of unpaid work.
Outside court, an emotional Mr Mansoor said: "The abuse had been going on for so long but nobody did anything about it. I said sorry to the boy right after I took the multi-tool out of my pocket. I'm sorry for what I did and it's the only time I've ever been in trouble. It was totally out of character and it only happened because of what they had been doing to me for so long. I went to another school after that and the abuse stopped."
Mr Mansoor was one of just two Asian students and the only Muslim at 1300-pupil Garnock Academy in Kilbirnie. The court heard that his knife threat came after "prolonged and horrific racist bullying" in the classroom and canteen.
The distraught 17-year-old told how younger students would ask if he carried a bomb in his bag after they had heard rumours saying that was why the school alarm went off. He eventually turned on one of his tormentors in December 2012 after school authorities ignored his complaints about racism and bullying.
Aamer Anwar, defending, said: "In this situation we were dealing with a young man in a school which failed to take any action when it was aware of racism. Secondly, the school actually aggravated the situation and most of the time was simply unaware of what was happening."
"On a daily basis he was subjected to abuse because of his religion or the colour of his skin but thought if he complained it would make matters worse. He was subjected to repeated intimidation and abuse, including being called Al Qaeda, terrorist and Paki black b*****d, and this led to his becoming even more isolated at school."
The lawyer added: "He was repeatedly told that his religion was s**t and humiliated in front of other pupils. On each and every occasion no one intervened. He did not retaliate, which emboldened the bullies and increased the casual racism. As he was pushed to the limits to react he thought of fighting back but stopped from doing so as he knew he would be excluded and bring shame upon his family."
Mr Mansoor had been working on his family's new home and still had a bladed multi-tool in the pocket of his winter coat when he went to school next day. After suffering further taunts he brandished the tool at a 16-year-old boy, apologising immediately after. Police statements taken from witnesses after the incident confirmed racial abuse against him took place.
Sheriff Elizabeth McFarlane said she would not be sending him to prison "based on what I heard at the last hearing". She added: "You presented a knife to someone at school, which is unacceptable in any shape or form."
Describing the school authorities as being "in denial", Mr Anwar added: "We have heard of no action or even an investigation against these thugs who tormented this young man on a daily basis. What is sad is that, while Hassan has been punished, those who committed criminal acts against him are free to carry on."
Mansoor transferred to Greenwood Academy in Dreghorn after the incident and is now going to college.
North Ayrshire Council denied claims the school failed to act as an "untrue and unfair misrepresentation of the school community". A spokesman added: "Prior to the incident in question, the pupil had only ever reported one occasion where an unacceptable remark had been made and on that occasion the school took immediate action to resolve the matter.
"Garnock Academy, in common with all other North Ayrshire schools, is educating pupils, staff and the wider community to understand and be tolerant of religious belief and cultural diversity and to encourage this in others. The school also has its own race equality policy which clearly states the right of everyone in the school community to live free of discrimination and prejudice and confirms its commitment to tackling racism of every kind."