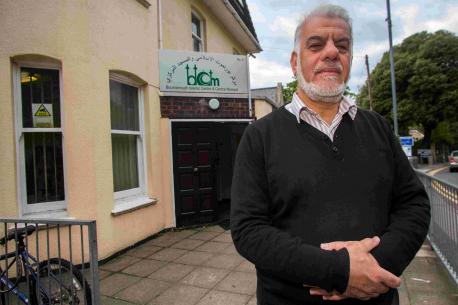 A community leader has spoken of his fears after a mosque was targeted in a racist attack.
Majid Yasin, imam and director of the Bournemouth Islamic Centre and Central Mosque, said the words "Muslim scum" were daubed in red on the walls of the building in St Stephen's Road on Thursday night. Dorset Police have confirmed that they are investigating the incident.
Mr Yasin said he fears the attack on the mosque was carried out in retribution after the murder of serving soldier Lee Rigby in Woolwich earlier this week, an act allegedly committed by two British-born men who have converted to Islam.
"What was done is a criminal act," he said. "Nobody here accepts it. It is a murder committed by mad people, and it has nothing to do with our faith." He said the Muslim community in Bournemouth "strongly condemn" the atrocity committed in London, adding: "We respect the society and the law here.
"We have had 800 people here today. They came to the congregation and we talked about this. We reject this violence and we are very upset about what has happened. This is murder – nothing to do with Muslims or Islam."
In a second incident at around 10.45pm on Thursday, a man rattled the doors of the mosque and tried to force his way inside. When confronted by Mr Yasin, the man ran off while continuing to shout at him.
"I don't know why people would do this," he said. "No one here accepts this awful murder in London. We do not believe in the killing of innocent people."