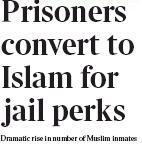 The blanket treatment by staff of the 10,300 Muslim prisoners in England and Wales as potential terrorists risks creating young men ready to embrace extremism on their release, the chief inspector of prisons warns today.
Dame Anne Owers says the treatment of the rapidly growing population of Muslim prisoners as potential or actual extremists is prevalent throughout the prison system despite the fact that fewer than 1% are in prison for terrorist-related offences.
The chief inspector also voices scepticism over claims by high security prison staff that gangs are forcing non-Muslim prisoners to convert to Islam through intimidation. Her report says that while conversions are common they are more likely to be the result of better food at Ramadan, the benefits of protection within a group and the discipline and structure provided by observing Islam through prayer.
---
The Times, by contrast, reports the story under the front-page headline "Prisoners convert to Islam for jail perks", the Sun informs its readers that "Prisoners are converting to Islam for a cushier life and better food", while the Express goes with "Muslim prisoners are cashing in on their religion to claim hundreds of thousands of pounds in additional benefits".
Update:  See also BBC News, 8 June 2010