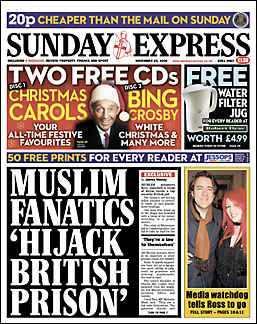 Muslim prisoners have launched a reign of terror inside a top security British jail.
The fanatics are forcing fellow inmates to convert to Islam or face punishment beatings. One man who stood up to the thugs was branded with a lump of hot metal, according to a prison source.
Some Al Qaeda supporters have set up a kangaroo court, sitting in judgment on prisoners and ordering punishments, the source said. The violent disciples of Osama Bin Laden have targeted even the toughest non-Muslim prisoners, including killers and rapists.
Sunday Express, 23 November 2008
But let it not be said that the Express's coverage is unbalanced. Buried at the end of the article is a quote from a Prison Service spokesman: "There is no evidence to suggest prisoners are being branded or assaulted in an effort to radicalise them."
Odd, though, that Richard Desmond's other title, the Daily Star, ran a similar scaremongering story about Whitemoor Prison only a couple of weeks ago which somehow managed to overlook this systematic campaign of violence against non-Muslim prisoners.
Update:  Meanwhile over at the Sun, under the headline "£3k curry treat for jail's Muslims", we find that, not content with intimidating killers and rapists into converting to Islam, Muslim prisoners at Whitemoor have been plied with chicken vindaloo at taxpayers' expense.