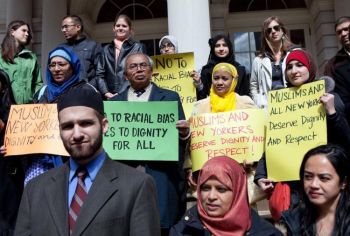 NEW YORK — "No to racial bias", and "Yes to dignity for all", read the posters held by community leaders and members from diverse groups on the steps of City Hall.
On Tuesday, city officials joined civil rights leaders, representatives from the Muslim American Civil Liberties Coalition (MACLC), Muslim and immigrant organizations, and interfaith groups to voice their concerns over the New York Police Department's (NYPD) use of a controversial film about Islam and Muslims to train officers working in Muslim communities.
The documentary film, "The Third Jihad", recently reported on by The Village Voice and described as an "anti-Muslim horror flick", was seen as smearing American Muslims and Islam. The 72-minute film explores the existence of radical Islam in America and depicts Islam and Muslims in an offensive and prejudicial way stated MACLC officials. They claim that using it as part of NYPD training will lead to increased racial and religious profiling.
"We are here today to call upon the police department to right its wrong," said Councilman Daniel Dromm. "This is a basic civil rights issue. What has been done to malign the Muslim community can be done to any community in New York City."
Reverend Chloe Breyer from the Interfaith Center of New York echoed this stance of unity. "We are in this together – Muslims, Jews, Christians, Sikhs, and those with no religious tradition. We need each other and it is wrong for anyone, particularly the police, to perpetuate hateful stereotypes that pit communities against each other," said Breyer.
The NYPD did not address any of their concerns and demands, stated MACLC representatives. After MACLC sent two letters to the NYPD, and had a meeting with NYPD representatives, they only received a brief letter from Commissioner Raymond Kelly stating that the video was no longer being used.
See also WNYC, 22 March 2011