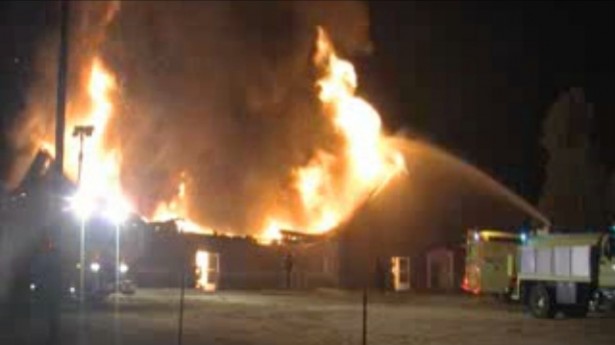 Joplin mosque burns to the ground after suspected arson attack last August
Among those assisting the Rebuild Joplin effort starting Monday will be Muslim and Jewish volunteers.
The volunteers will be from ICNA Relief, part of the Islamic Circle of North America; the Jewish Disaster Relief Corps; and Bridges, a Muslim-Jewish interfaith dialogue composed of New York University students. Shahid Farooqi, outreach director for ICNA Relief USA, said the groups are joining forces in a show of unity.
ICNA volunteers most recently have been volunteering to provide relief to victims of Superstorm Sandy. The group recently was named New Yorker of the Week by New York cable channel NY1. "Here in New York, they've been very active," said ICNA publicist Gail Tweedy. "They've handed out thousands of blankets and heaters. They've provided free health care services. They've cut down trees. They've provided grief counseling."
Farooqi said ICNA has worked with the JDRC on disaster relief projects in the past. He said ICNA came to Joplin following the May 22, 2011, tornado in Joplin. Its volunteers slept in the Islamic Society of Joplin mosque, which was destroyed in a suspicious fire on Aug. 6, 2012. Officials with ICNA also responded to the mosque fire.
"We helped to clean up debris," Farooqi said of the first visit. The initial post-tornado effort included Muslim volunteers from New York, Kansas, Oklahoma and St. Louis. "When a disaster happens, we help people based on their need, regardless of their religion or skin color," Farooqi said.
Mohammed Arif, assistant executive director for ICNA Relief, said he agreed. "Whoever helps another human being, God will help him on the day of judgment," Arif said. "This is inspiration to us."
He said when the Muslim and Jewish groups have worked together on relief projects, it has been a satisfying and rewarding experience. He said world politics don't come into play when people relate on a personal level. "There is no animosity," Arif said. "This demonstrates very clearly we are all Americans."
Farooqi said the volunteers will be traveling Saturday and Sunday and begin their work on the Rebuild Joplin houses on Monday. He said he didn't know how many volunteers there would be with each group.