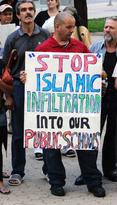 Some Muslim parents fear a handful of Toronto imams are turning their children into young radicals during Friday prayer services at some public schools.
"Who are these imams and what are their qualifications," asked Sohail Raza, president of the Muslim Canadian Congress. "I am extremely concerned about what they are teaching our kids." Raza was among 300 people who demonstrated outside the Toronto District School Board, on Yonge St., on Monday night.
Vocal protestors from six groups have formed a multi-faith coalition and vow to ramp up their protest against Islamic prayers taking place in some public schools as students return to classes this fall. The group chanted and waved signs calling for prayers to be banished from classrooms.
Meyer Weinstein, of the Jewish Defence League, called for a halt to the prayer services. "We don't want radical Islam gaining a foothold in our schools," Weinstein said.
See also "School board sees duelling demonstrations over Muslim prayers", Toronto Star, 8 August 2011
And "Muslim group wants prayer in public school stopped", Toronto Sun, 5 July 2011
---
For more on the Muslim Canadian Congress see here. The MCC won favourable coverage from the Islamophobic right for condemning the Park51 development on the basis that "the idea behind the Ground Zero mosque is meant to be a deliberate provocation, to thumb our noses at the 'infidel'".
Earlier this year the Jewish Defence League organised a rally in Toronto in support of the English Defence League, which was addressed by EDL leader Stephen Lennon.
Back in 2006 the majority of the MCC split away to form the Canadian Muslim Union, accusing a section of the MCC leadership of aligning itself with the enemies of the Muslim community. The rump MCC denounced the breakaway group as "Canadian supporters of Hezbollah" – because they had joined a demonstration against Israel's attack on Lebanon at which some of the protestors carried Hezbollah flags. But the MCC has no problem holding a joint demonstration with the Jewish Defence League.