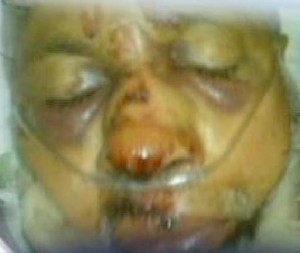 A Brooklyn man was savagely beaten in broad daylight last weekend.
"They used the bad word. 'The mother bleeping Muslim, go back to you country.' They started beating him and after that he don't know what happened," the victim's nephew Abul Kashem said.
Kamal Uddin is in and out of consciousness at Brookdale Hospital after being savagely attacked by four young men.
It didn't happen under the guise of nightfall or in a secluded area. He was beaten to a pulp at 3:00 Saturday afternoon on the sidewalk at the corner of Barbey and Worthman in East New York.
Why? His family says because he's a Muslim from Bangladesh. "He has the money. He has the wallet. He was the watch and the cell phone. Nothing taken. Everything is there with him. It seems to me it's a hate crime," the victim's uncle Mohammed Abul Hashem said.