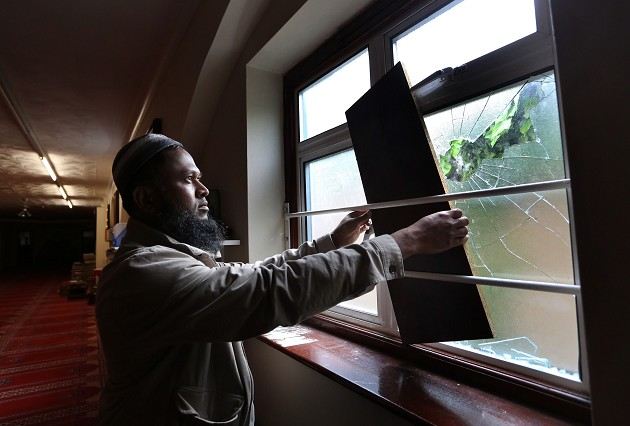 The murder of soldier Lee Rigby has provoked a backlash of anger across the UK, including the attacking of mosques, racial abuse and comments made on social media.
A 22-year-old man will appear before magistrates in Lincoln charged with making malicious comments on Facebook.
Benjamin Flatters, from the city, was arrested on Thursday after complaints were made to Lincolnshire Police about comments made on the social networking site which were allegedly of a racist or anti-religious nature, a Lincolnshire Police spokesman said. A second man was visited by officers and warned about his activity on social media, the spokesman added.
Meanwhile, two men will also appear at Thames Magistrates Court charged with religiously aggravated threatening behaviour over an incident in an east London fast food restaurant on Thursday. Labourer Toni Latcal, 32, and plasterer Eugen-Aurelian Eugen-Beredei, 34, both from London, were arrested following the incident at 9.15pm on Thursday.
Latcal was charged with religiously aggravated threatening behaviour and causing criminal damage, while Eugen-Beredei was charged with religiously aggravated threatening behaviour.
A 23-year-old woman has been charged with allegedly sending a "grossly offensive" message on Facebook, Hampshire Constabulary said. Michaela Turner, of Southsea, was arrested at her home after a post was uploaded at 10.42pm on Wednesday. The post has since been removed. Turner was charged overnight with an offence contrary to Section 127 of the Communications Act 2003. She has been bailed to appear at Portsmouth Magistrates' Court on June 7.
Surrey Police said a 19-year-old man has been charged in connection with comments placed on a social media website following the murder of the soldier. Mohammed Mazar, of Woking, has been charged with improper use of public electronic communications network under Section 127 of the Communications Act 2003. A police spokesman said Mazar has been freed on police bail to appear at South West Surrey Magistrates' Court on June 11.
An unemployed 28-year-old has been charged by police after allegedly posting an offensive message on Facebook. Sussex Police said Adam Rogers, of Kingsman Street, Woolwich, was arrested in Hastings, East Sussex, on Friday. He will appear at Brighton Magistrates' Court accused of sending an "offensive, indecent or menacing message" online.