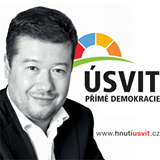 Tomio Okamura, who heads the Czech opposition Dawn of Direct Democracy movement, has called on people on Facebook to bother Muslims in the Czech Republic by "walking pigs" in the vicinity of mosques, for example, which, he emphasised, is no incitement to intolerance.
The Dawn discussed the text of the appeal with lawyers before releasing it, he told the iDnes.cz server.
In the past, Okamura repeatedly asserted that he is not a xenophobe, in spite of his controversial statements about Romanies and foreigners in the Czech Republic. For example, Okamura once visited a man convicted of a racially motivated murder in prison.
The text that Okamura released on Facebook is the Dawn's "instruction for the protection against Islam." It is signed by Dawn member Jiří Kobza.
The Dawn advises people to keep dogs and pigs and to go to walk them in the vicinity of mosques and other sites visited by Muslims. People should also lead [seedy-looking] homeless people to such places, Dawn recommends. It says people should not buy kebabs, a meal often offered by Muslim vendors.
The article is also aimed against immigrants in general. It calls on people not to vote in support of politicians who promise advantages to immigrants.
Okamura told iDnes.cz that the article is no incitement to provocations and intolerance. "We've discussed the text with our defense lawyers. I don't want to step on thin ice," he said. However, experts addressed by the Czech News Agency said the Dawn's appeal for intolerance towards minorities has crossed a bearable limit.
Human Rights Minister Jiří Dienstbier (Social Democrats, ČSSD) said he would not comment "on Mr Okamura's hateful utterances."
Previously, Okamura said the foreigners who lose their job in the Czech Republic should return to their Okamura is also infamous for his anti-Romany statements. He said the wartime concentration camp in Lety, south Bohemia, where hundreds of Romanies died, had been a labor camp for workshy people.
The Dawn of Direct Democracy entered the Czech Chamber of Deputies for the first time in the October 2013 elections, gaining 6.88 percent of the vote. With 14 seats in the 200-seat Chamber, it is one of the two smallest parties in it.
In the past year, the Dawn's popularity has stood below the 5-percent parliament threshold, according to public opinion polls.