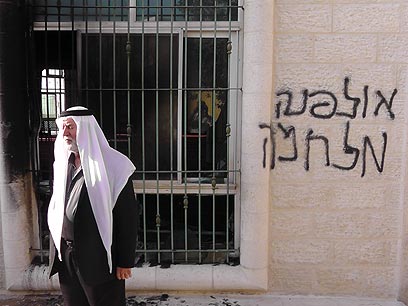 Unknown assailants torched and spray-painted Hebrew slogans on a mosque in the village of Jaba, southeast of Ramallah.
Damage was caused to the building. The slogans read, "Ulpana war" "The war has started" and "Pay the price."
IDF and police forces are canvassing the area. It is suspected the vandalism was a "price tag" act.
Suspicions for "price tag" acts were raised several times over the past few weeks following the impending evacuation of Beit El's Ulpana neighborhood.
Last week, the tires of four cars belonging to east Jerusalem residents parked near Shufat were punctured. The word "Ulpana" was found painted over one of the cars.
Several days earlier, the tires of 14 vehicles were punctured in the integrated community of Neve Shalom. The words "Death to Arabs" "Revenge" and "Regards from the Ulpana" were spray-painted on three cars.
See also "Settlers suspected in West Bank mosque vandalism",Reuters, 19 June 2012