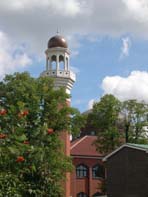 "Muslim leaders have sparked outrage with plans to broadcast the Islamic call to prayer over the roof-tops of one of Britain's most historic cities. Elders at Oxford Central Mosque want to blast it out three times a day. They have already discussed the controversial idea with council chiefs and are set to submit a formal application in the New Year.
"But the move has been met with fury by people living near the mosque in Oxford – known as the city of dreaming spires. They claim the two-minute call – to be broadcast over three large speakers – is noise pollution and offensive to other faiths."
The Sun – rather belatedly – joins in the Oxford mosque hysteria.