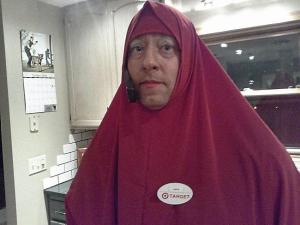 An Internet-spread photo of a St. Paul Police officer wearing lipstick and a hijab, the traditional outfit for Muslim women, has angered community activists and spurred a department investigation.
"I was literally sick to my stomach," said Ramla Bile of Minneapolis. "My identity is not a costume, and it's not OK for cultures to be turned into caricatures."
Police Chief Thomas Smith immediately opened an investigation. Police spokesman Howie Padilla confirmed that an officer is depicted in the picture, but could not release his identity Monday.
"The St. Paul Police Department has worked hard to establish a strong and respectful relationship with our Muslim communities, and I will not allow these types of images to erode that relationship," Smith said in a written statement. "Diversity is one of the greatest strengths of the city of St. Paul, and we expect each one of our officers to respect and take pride in serving each of our diverse communities."
"The city and the mayor's office take this very seriously, and the mayor will personally monitor it very closely," said Mayor Chris Coleman's spokesman Joe Campbell.
Somali and Muslim community activists called for swift disciplinary actions and cultural sensitivity training. The Minnesota chapter of the Council on Islamic-American Relations (CAIR-MN) offered training.
"This does not seem to be a clear-cut case of hate and bias against Muslims," said Lori Saroya, executive director of CAIR-MN. "It's unclear whether the officer was just being ridiculous and unprofessional or if he acted out of malice."
The group received calls and messages about the image Monday, said Saroya, who also said she feels the department works well with Somali and Muslim communities.
In the photo the white male police officer is wearing a Target name tag with a Somali name. He also has a large cellphone wedged between the side of his face and the hijab, a practice that is common among many working women, said local activist Ilhan Omar.
Target Corp. spokeswoman Molly Snyder said the officer in the photo has occasionally provided off-duty security at a local Target store. She said the photo was not taken at any Target facilities and did not identify the officer.
"As a company who stands firmly for inclusivity and diversity, we were appalled by this photo and do not tolerate or condone discrimination or harassment of any sort," Snyder said in a written statement. "We are conducting a full investigation and talking to and supporting all of our St. Paul team members."
Community members said it was especially disappointing to see a public servant openly mock their culture. The type of hijab depicted is a jilbaab, an especially long and concealing garment, and the name on the name tag is a very common Somali name, Bile said.
"It just goes to show you … how much he went out of his way to fill this immigrant stereotype of a Somali woman working at Target," Bile said.
See also "Policeman's hijab upsets Minnesota Muslims", OnIslam, 5 February 2013
Update:  See "St. Paul cop apologizes for photo of him dressed as Muslim woman", Star Tribune, 5 February 2013