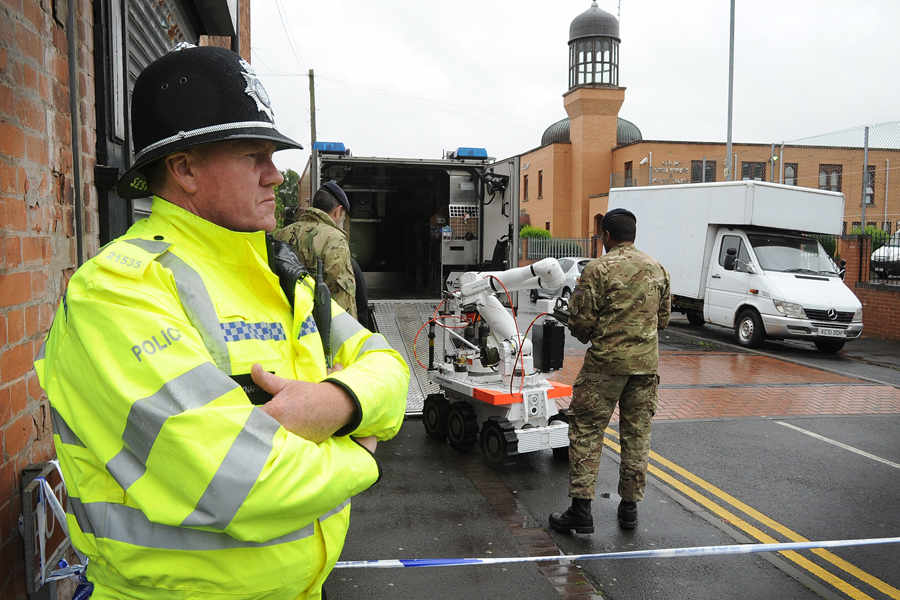 Counter-terrorism police are drawing up security plans for three mosques which were hit by bombs, experts have revealed.
They are assessing the Kanzul Iman Central Jamia Mosque in Binfield Street, Tipton, where a nail bomb exploded in July. A review is also under way to see if extra CCTV cameras should be provided nearby.
Meanwhile, police are advising bosses at Wolverhampton Central Mosque, where officers found evidence of the "seat of an explosion" in July, as well as Aisha Mosque and Islamic Centre in Rutter Street, Walsall, where a home-made bomb went off in June.
Deb Edmonds, spokeswoman for West Midlands Police, said: "The Counter Terrorism Unit has a team of security advisors. Specialist officers carry out assessments and advise site managers on ways to improve security and plan for emergency situations. Members of the team have been liaising with a number of mosques since the bombing incidents to offer support."
In Tipton, a working group has been established to look into the Tipton site involving police, Sandwell Council and Network Rail. Minutes of a Tipton Town Service Improvement Board meeting add: "The Counter Terrorism Unit was currently developing a site vulnerability assessment. A report was being prepared which would highlight any lessons learnt regarding communications and the flow of information which could be applied in the event of another incident of this nature."