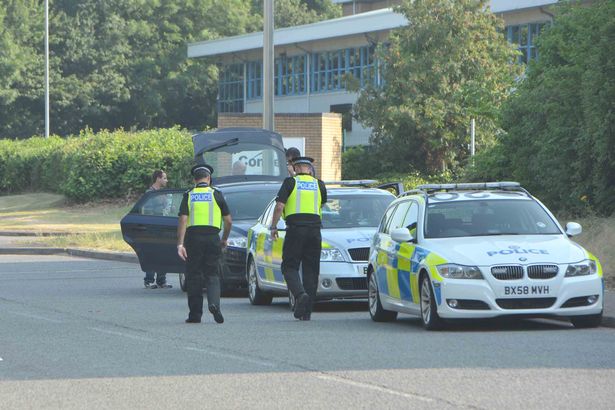 Wolverhampton Central Mosque was evacuated tonight as the police investigation into explosions near mosques in Walsall and Tipton took a series of dramatic twists.
A bomb disposal team and specialist police officers were dispatched to the mosque in Waterloo Road at 8pm after new information came to light in the mosque blasts inquiry. Detectives were working on fresh intelligence suggesting a device had been activated at the Wolverhampton mosque on June 28.
Main routes near the mosque were closed and the area cleared while police conduct searches. By 10pm the cordon had been reduced to 60ft surrounding the Five Ways island. The shut roads included Foxes Lane, Dunstall Avenue, Dunstall Hill, Dunstall Road, Waterloo Road and North Road.
Earlier detectives from the West Midlands Counter Terrorism Unit arrested a 25-year-old and a 22-year-old man on suspicion of being involved in the commission, preparation or instigation of an act of terrorism under the Terrorism Act 2000 this afternoon.
The men, both eastern European, were arrested on Talbot Way, Small Heath at 2.50pm today. The arrests are in connection with a bomb placed outside Aisha Mosque in Rutter Street, Walsall, on June 21 and a suspected nail bomb at Kanz-ul-Iman Muslim Welfare Association Central Jamia Mosque in Tipton on Friday last week.
See also "Wolverhampton evacuation as mosque searched", West Midlands Police press release, 18 July 2013
Update:  See "Mosque attacks: Two students arrested, Wolverhampton Central Mosque evacuated", Birmingham Mail, 19 July 2013
And "Bomb blast debris found near Wolverhampton Central Mosque", Express & Star, 19 July 2013