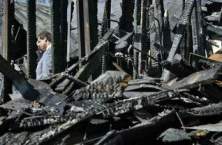 It's too early to tell if the case of three men charged with setting a Columbia mosque on fire will be tried solely in federal court, said Mike Bottoms, Maury County district attorney.
Michael Golden, 23, Eric Baker, 32, and Jonathan Stone, 19, are accused of spray painting swastikas and throwing Molotov cocktails at the Islamic Center of Columbia, 1317 South Main St., on Feb. 9. The men are being held on $250,000 bond in Nashville, Bottoms said.
In a preliminary hearing on Monday, agents testified that the men incriminated themselves by admitting to various levels of participation in the crime, Bottoms said. Two of the three men facing federal charges in connection with the mosque firebombing told federal authorities that they are members of the Christian Identity movement, widely considered a white separatist movement.
The men had planned in early February to "burn" the Islamic Center, according to a federal affidavit. The men purchased black spray paint and gasoline, the affidavit alleges. The Islamic Center was set on fire shortly before 5:20 a.m. on Feb. 9.
Stone told special agents that brick was used to break the window of the door and that they threw two Molotov cocktails on the floor. Stone nearly set himself on fire, according to the affidavit. Baker told agents he was the driver, according to the court document. Baker admitted to spray-painting swastikas and white pride slogans on the building, the document states. Baker added, "what goes on in that building is illegal according to the Bible," the affidavit states.
The case will go to a Maury County grand jury within 30 days, Bottoms said.
The state has charged the men with arson of a religious building, and the judge refused to reduce the charge to arson. At Monday's hearing, the president of the Islamic Center testified that the building is used entirely for church and prayer services, Bottoms said.