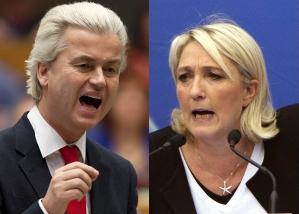 French far-right leader Marine Le Pen is to visit the Netherlands in November to forge closer ties with the Dutch anti-Islamic party of Geert Wilders ahead of next year's European elections, a Dutch media report said Monday.
Le Pen will travel to The Hague on Wilders's invitation after meeting the outspoken Dutch politician in Paris earlier this year, the Nieuwsuur news programme said.
"After our meeting, she'll now travel to The Hague to be my guest in the lower house of parliament," Nieuwsuur quoted Wilders as saying on its website. "She is a charismatic politician," added Wilders, known for his platinum-blonde hairstyle and pronounced anti-Islamic and eurosceptic viewpoints.
The Party for Freedom (PVV) leader reiterated Le Pen's statement last month that their two groups could campaign together for next year's European parliamentary elections. "Parties such as (Le Pen's) National Front (FN) and the PVV could make the europhile elite sing a different tune during the European elections," Wilders said.
Le Pen said last month the FN wanted to campaign with the PVV to show voters that "similar patriotic movements are active in every EU country." Earlier this year, she said that she wanted to begin a pan-European far-right parliamentary grouping, including her National Front, after the May 2014 European elections.
The PVV lost out in a Dutch general election in September 2012, with its seats almost halved to 13, but the party has been riding high in opinion polls, largely thanks to anti-EU policies.
Le Pen and Wilders have many similar policies, from immigration to protectionism, but Wilders reportedly wanted to keep his distance because of the anti-Semitism of Le Pen's father, FN founder Jean-Marie Le Pen.
Le Pen, currently a member of the European Parliament, and Wilders had lunch in Paris in April. But Le Pen previously said she was "perhaps less radical" than Wilders on Islam. While she fights against Islam's presence in public life in France, "I have nothing against Islam in itself," she said in an interview with Dutch daily NRC Handelsblad last month.
Le Pen, who was first elected to the European Parliament in 2004, won 18 percent of the vote in the first round of France's presidential election in April 2012, the party's highest-ever score.
See also "Far-right leaders Marine Le Pen and Geert Wilders in talks to form anti-Europe alliance", Independent, 15 October 2013