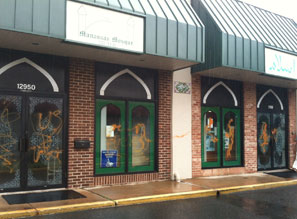 A Prince William County mosque was vandalized Monday night or early Tuesday, and Muslim leaders described the incident as a hate crime.
Abu Nahidian, the imam at Manassas Mosque, said he arrived Tuesday morning to find an expletive written twice in spray paint on the windows of the mosque that he helped found 20 years ago. Eight windows were defaced, and a glass door was shattered. Because the mosque has a double set of doors, the house of worship could not be entered, Nahidian said.
The mosque has been vandalized before when tensions in the United States ran high over violence in the Middle East, Nahidian said. The last previous incident was three years ago.
"We do not hurt anybody. If those with our names are doing something, why should I become the victim? You haven't seen me doing anything," he said. "We are a part of the whole earth, and we love the whole earth."
The Council on American-Islamic Relations issued a statement characterizing the vandalism as a possible hate crime and asking police to investigate.
Jonathan Perok, a spokesman for Prince William County police, said officers went to the mosque Tuesday afternoon. Police said in a statement that it was not immediately clear whether the incident was a hate crime, but vandalism at any religious institution is "carefully investigated to determine the criminal intent of the suspect."
Nahidian estimates that replacing the door and removing the paint from the windows will cost $1,000. In the meantime, 20 to 25 children who participate in the mosque's summer classes had to walk past the obscenities to get inside Tuesday morning. "Of course it hurts them," Nahidian said of the children. "I tell them: 'Pray for them so they will not do it again. Pray for them so they will learn we don't hate them. Why do they hate us?' "
Nahidian said he tries to respond not with anger but with practicality – the mosque has security cameras inside, and he would like to outfit the outside with cameras, too — and with prayer. "Anger doesn't do anything, but I will pray for them, that they learn that with your mistake, the problem comes. We haven't done anything wrong."
Washington Post, 12 August 2014
See also "CAIR seeks hate crime probe of Virginia mosque vandalism", CAIR press release, 12 August 2014