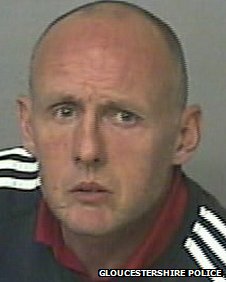 A former soldier who tied a pig's head to the gates of a Cheltenham mosque has been jailed for four months.
Simon Parkes, 45, from Bishop's Cleeve, Gloucestershire, also sprayed racist graffiti during the attack in November 2010, Gloucester Crown Court heard.
Parkes, who had admitted racially aggravated criminal damage, said he was angry that Muslim extremists had burnt poppies at a Remembrance Day service.
His actions were "blatantly designed to be insulting," Judge Jamie Tabor said. The judge told the former soldier: "You deliberately set out to not just insult another religion, but inflame and increase racial tension at a sensitive time."
Parkes, who was wearing a mask when he went to the mosque, had written the word Allah on the pig's head, the court heard. The court was told he had carried out the revenge attack on 13 November after Muslim extremists had set fire to poppies at a Remembrance Day service in London.
A spokesman from Cheltenham Mosque said: "This was a very shocking incident for the whole community, Muslim and non-Muslim alike."
Tim Waterhouse from Gloucestershire Police said: "I hope this sentence sends out a clear message that this sort of appalling criminal behaviour will not be tolerated.
"Although this disturbing incident happened nearly two years ago, a painstaking and difficult inquiry has led to today's sentencing.
"The message is clear that we will not stop in our determination to target criminals and keep people and our communities safe from harm."
See also Wilts & Gloucestershire Standard, 30 August 2012
Update:  See "Former soldier jailed for leaving pig's head at mosque", Press Association, 30 August 2012