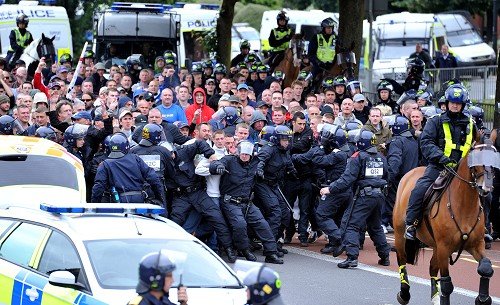 A businessman who hurled missiles as he marched through Bristol with the English Defence League handed himself into the authorities when he realised he was a wanted man.
Barry Johnson was one of hundreds of marchers who took part in the high-profile demonstration through the city centre in July last year.
Bristol Crown Court heard how he was caught on film by a cameraman and images were later posted online by Avon and Somerset police in a bid to track him down. When he saw the images Johnson travelled from his home in Peterborough to admit his involvement in the incident.
The 29-year-old from Poplar Avenue, Peterborough, pleaded guilty to affray when he appeared in court.
Judge Martin Picton told him: "Throwing missiles is clearly dangerous. Someone could have been hurt."
The judge handed Johnson a three-month prison sentence which was suspended for a year. He also fined him £250 and ordered him to pay £85 towards court costs.
Richard Posner, prosecuting, said: "On July 14 in Bristol there was a demonstration and march by the English Defence League in the centre of Bristol.
"The group was formed in 2009 and it claims to oppose Islamic extremism. It chose to assemble in Bristol and march. That led to tension with United Against Fascism, and there was anticipated to be tension between the two groups." He added: "Police went to the city centre to quell disorder."
Mr Posner told the court that police filmed Johnson in the thick of the crowd, throwing two missiles in the direction of the UAF supporters with no apparent provocation.
He said it was impossible to say if anyone was struck and there was no other violence taking place at the time of the incident.
The judge was shown the police footage which captured the offence. Johnson was in the middle of a crowd of jostling and gesticulating EDL marchers.
Mr Posner said: "There was an intention to identify people and the defendant was identified in that way. He handed himself in. He had seen himself on the Avon and Somerset police website, which asked Do you know who these people are?"
When Johnson handed himself in police interviewed him but he made no comment about the incident.
His criminal record revealed he had previous convictions for football-related violent disorder.
Johnson represented himself in court but, other than handing the judge a letter, said nothing in his defence. The judge confirmed he had read a pre-sentence report from the probation service which revealed Johnson ran his own business with his brother.