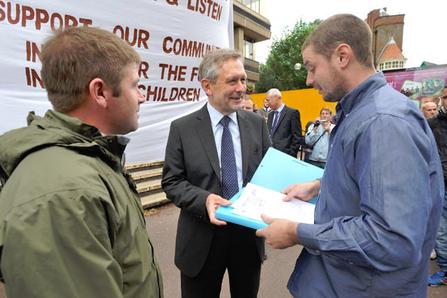 A former scout hut which was the focus of protests over plans to turn it into an Islamic centre is to reopen.
Last year the As-Salaam Trust said it wanted to take over the building in Thurnby Lodge, Leicester, after using it for prayer meetings for some months.
A residents group organised a series of protests and a petition, calling for it to be used for the wider community.
But the residents group has been given a rent-free lease of the hut and the As-Salaam Trust will use a nearby site.
Several protests, some attracting hundreds of people and requiring a significant police presence, were held over the issue.
The residents have refitted the building with donated goods since January, when the two-and-a-half-year rent-free lease was agreed.
Originally called the Forgotten Estates, the group is now known as the 55th Community Association, named after the old scout group.
What the BBC report omits to mention is the well-established links between Forgotten Estates and the anti-Muslim thugs of the far right, as exposed by Leicester UAF and Hope Not Hate.
It was Forgotten Estates leader Chris Hopewell, a self-proclaimed supporter of the English Defence League and the East Midlands Infidels, who formally presented the organisation's petition to Leicester mayor Peter Soulsby opposing the granting of a lease to the As-Salaam Trust (see picture above).
Earlier this year at Leicester Magistrates' Court another Forgotten Estates activist, Liam Ferrar, was convicted on a charge of religiously aggravated harassment, having admitted leaving a pig's head outside the Thurnby Lodge community centre that As-Salaam currently uses for prayers. He received a three-month suspended prison sentence.
If a Muslim organisation had proven links to extremism, there is no way they would be given any kind of lease on a publicly-owned building, still less a rent-free one.
Update:  And here's the title the National Secular Society chose for its link to the BBC report: