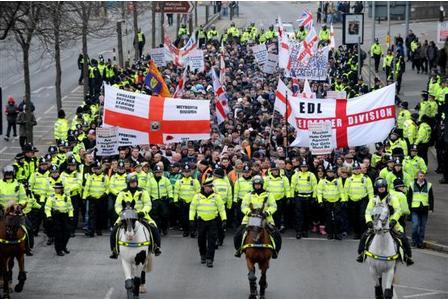 Hundreds of people with very different political viewpoints took to the streets of Leicester city centre during Saturday's rival marches. Both the English Defence League and Unite Against Fascism claimed success for their protests.
Despite a police warning for groups to stick to their agreed march routes, Unite Against Fascism encouraged its supporters to gather at the Clock Tower at 11am and to remain there until the EDL passed by.
A group of at least 50 who congregated at the Clock Tower were then warned by police to move on or face arrest. They included former city council leader Ross Willmott, who told officers he had a legal right to be at the scene of the EDL protest.
Councillor Willmott had earlier criticised city mayor Sir Peter Soulsby and police for allowing the EDL to march through the city centre and for allocating march routes which kept the groups apart. Coun Willmott said: "The police have a difficult job to do, but we are peaceful people who want to hold a vigil and demonstrate against the EDL."
The protesters were eventually shepherded along Gallowtree Gate to the New Walk Centre, the gathering point for their march.
Meanwhile, the EDL demonstrators had begun to meet at their starting point at St Margaret's Pastures, off St Margaret's Way. Many supporters covered their faces to hide their identity from police spotters. At about 12.45pm, surrounded by police officers and barely visible at street level other than their banners, the EDL started along their route.
Later, when the EDL returned to St Margaret's Pastures, its leader Tommy Robinson addressed the crowd, claiming that the group had brought 2,000 people to the city. However, the official police estimate was 700.
Mr Robinson said the police had treated EDL protesters "like animals" when they last protested in Leicester in 2010 but said they had handled the latest demonstration well. He said: "We have been allowed to march, we have been allowed to protest and we have been given this area."
Unite Against Fascism and other opponents of the EDL set off from the Leicester City Council's New Walk Centre at 12.45pm. Its supporters chanted and carried banners reading "Smash the EDL" and "No to Racism". UAF supporters said they were angry the EDL had been allowed to protest.
Andy Wynne, 57, from Glenfield Road, Leicester, said: "It's very upsetting the EDL have been allowed to march." Sonja Grossner, 69, from Loughborough, said: "My parents had to flee Nazi Germany after trying to stand up for what they believed in, so I'm happy to be here. But I'm depressed the EDL were allowed to march."
Bystander Rowan Bergman, 29, from Oadby, said: "I'm glad there's this counter-protest. I can't get my head around how people can support the EDL."
Leicester Mercury, 6 February 2012
See also "Taunts, snarls, slogans then it's back on the bus", Leicester Mercury, 6 February 2012
In October 2010 the EDL brought 1,500 suporters to Leicester – this time less than half that figure. Future prospects for the movement are not good. Still, the EDL can take consolation in the fact that they were allowed to march through the centre of a multi-ethnic city with their message of hate.
The police appear to have reasoned that in 2010 the EDL were restricted to a static demonstration and responded by breaking through police lines and rioting, so this time it would be better to allow them to hold their march. In other words, the EDL got their way through the threat of violence.
What message does this send to far-right racist thugs about Leicestershire Constabulary's willingness to defend law and order?
Update:  See "NEVER AGAIN – Public meeting tomorrow to stop the EDL returning to Leicester", Turban Campaign, 6 February 2012